The Mineral Point Vampire – a 5E Dungeons and Dragons Mini-Campaign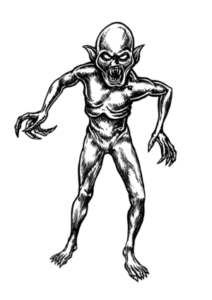 Or buy direct from Tomorrow River Games and save nearly $5.00. Be sure to specify a mailing address and title. You'll receive a free copy of the PDF with your order.
You can also, for a limited time, order just the PDF for $2.00.
Featuring, mythical creatures and locations in Ouisconsin, this is a challenging adventure that starts the party off at higher levels. Mineral Point and Pendarvis have become increasingly haunted, and continue to be cursed by a vampire for decades. There are legends of hangings, murders, hauntings and kidnapping. Can the party save these communities and restore them to their past glory?
The module includes more than 50 pages of adventure, dungeons, outdoor encounters and new monsters based on the mythos of Ouisconsin. It should provide multiple sessions and hours of gameplay for your adventurers.
Play it as a standalone adventure or as an extension to TMR1 On Ouisconsin!